Compensation for our troops sounds straightforward. It should be easy – but it's not.
MOAA wants to ensure members of all eight of our uniformed services are adequately compensated for their personal sacrifices through their years of service. DoD manages the military pay table for the services, and per Title 37, each service secretary has a role in the management of compensation and entitlements.
Here's a quick primer on what's gone wrong with the compensation system, what can be done to address these problems, and what MOAA hopes to achieve on this issue as part of Advocacy in Action, our signature spring advocacy event.
[TAKE ACTION: Ask Your Lawmaker to Support the Military Pay Raise]
What's Wrong?
Faulty analyses. MOAA and other advocates must combat the supposition, by reputable researchers, that we are paying servicemembers too much, and that these personnel costs prevent officials from equipping our troops with the modern equipment and needed supplies. A recent commentary from MOAA President and CEO Lt. Gen. Dana T. Atkins, USAF (Ret), took aim at these wayward opinions. The piece – published by The Hill newspaper – offered a more experienced and clear accounting of the true costs of personnel and health care, which has been a steady 33% or less of DoD's annual budget over decades, per the department's own data: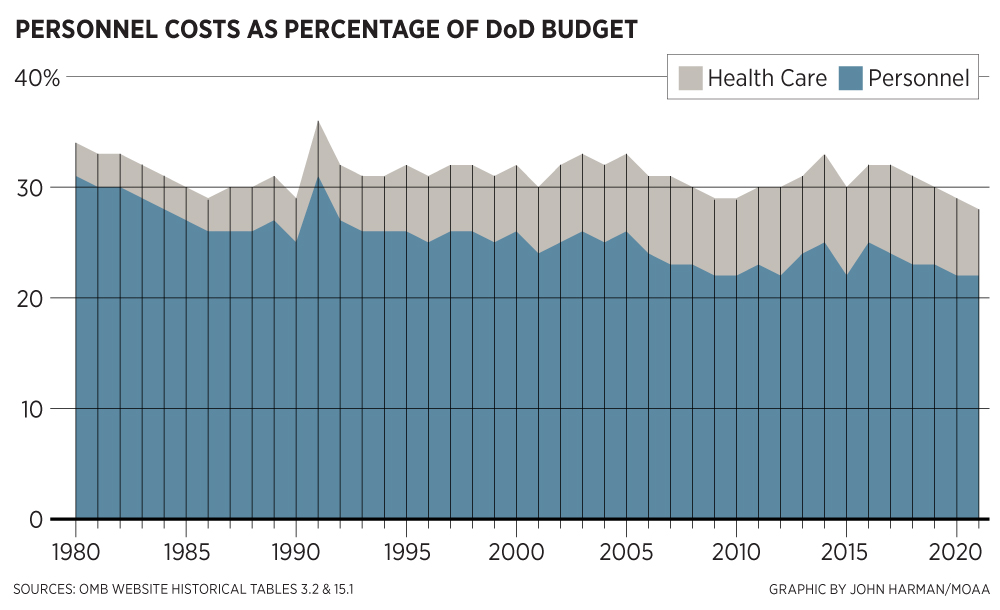 Fewer veterans in Congress. Only 17% of those in office have some level of military experience, compared with nearly 80% of Congress in the early 1970s, according to the Pew Research Center.
Filling the gap. From 2014 to 2016, the president used his authority to reduce the military pay raise based on serious economic conditions; that pay raise gap of 2.6% still exists today. Overcoming that gap has been difficult over the past few years due to competing priorities in Congress and other fiscal challenges like trying to pass appropriation bills on time. However, given the current inflation, global threats, and comments from some legislators about paying our troops more, this may be the year to close that gap for all ranks.
These factors identify a diminished familiarization with what our servicemembers do, how they live, and the challenges they and their families face in service to our nation. MOAA faces this social and fiscal headwind each year and with each Congress.
What Works?
Grassroots efforts. Thankfully, MOAA has over 350,000 members to help face these challenges. Through your dedicated efforts, we will continue to educate those on the Hill who lack the experience of uniformed service, to share our stories and concerns for those serving today, and to hold all legislators accountable for taking care of our all-volunteer force.
Advocacy in Action. AiA not only highlights your work with your legislators, but also accounts for the whole-of-MOAA effort to make sure we engage with all 535 offices – in their home states or on Capitol Hill – through our spring campaign.
Check out Advocacy In Action 2022 here, download the fact sheet for the military pay raise issue, and be sure to send a letter to your lawmaker. The letter includes updated language proposing a 7.2% pay raise – adding 2.6% (the "pay gap," as outlined above) to the 4.6% indicated by the Employment Cost Index (ECI).
Success in this effort would result in a 2023 raise much closer to current inflation levels, which hover around 8%. We need to ensure this message of support for the troops remains uppermost on every legislator's mind.
Keep up with the latest news on this Advocacy in Action issue and other items on MOAA's legislative agenda at MOAA's Advocacy News page.
More Members Mean More Influence Over Retirement Pay, Health Care, and Family Programs
Get involved and make sure your interests are addressed. Because the larger our voice is, the greater our impact will be.