Editor's note: This article is a part of MOAA's 2020 Transition Guide, which first appeared in the December issue of Military Officer magazine. Learn more about the magazine here; learn more about joining MOAA here.)
Transitioning from military life into the civilian world can seem daunting, whether you've been on active duty for a few years or for a full career. There are many considerations and tasks when the time comes to leave the service: deciding where to live, packing up and moving, taking stock of your family's needs and desires, and assessing what job opportunities to pursue. This transition journey can have numerous ups and downs. The good news is many people who already have walked this path are willing to share what they experienced. Here are some helpful tips.
1. Start early.
Sure, everyone says this, but you still have a full-time job and a demanding boss. Who has time to think about an event that's a year or two away? Yet that's exactly what you must do. The last two years will whip by in a blur, and before you know it, you'll be on the precipice of transitioning with no clue about how to start. Col. Michael Jason, USA (Ret), a MOAA Life member, feels very strongly about this.
"You are making lifelong strategic decisions, and you don't even realize it," he says. "Everyone should take [the Transition Assistance Program] at the 18-year point regardless of their current plans. No exceptions. You may already be in your last job in uniform." There's a lot to do, and getting started early is critical. Make it a priority.
[RELATED: Is Your Career Path Full of Fellow Veterans? Here's How to Stand Out]
2. Take care of medical, dental, and other must-do's. You'll want to ensure you get an early start on any lingering or persistent medical and/or dental issues before you transition out of active service. That nagging pain in your left knee you ignore when you run? Now's the time to get it taken care of. Not only do you want to be a full up round when you transition, but it's important to document any issues for your VA disability claim. It takes time to get appointments and schedule any follow-on treatment that might be needed.
3. Reflect on what you want to do. This can be difficult, especially if you're not keen on doing the same type of job you did while on active duty. Previously, someone else decided what your job would be — a detailer, a monitor, or an assignment officer. Now you have to make that decision. And while you're certainly justified in your confidence that you can "do anything"— veterans are known for their adaptability and strong work ethic, after all — employers are not looking for someone to do just "anything." They need an employee or team member who can perform the specific functions they need to have done, using the particular skills required to do it.
Regardless of your current military job or position, think about the skills required for what you want to do in your next job in the civilian market. For example, a project manager should focus on project-management skills such as planning and organizing, problem-solving, decision-making, and teamwork. Having an understanding of the needs of your target employer will allow you to highlight the right skills and abilities.
[RELATED: Certifications Will Showcase Your Skills, But Be Sure to Do Your Homework]
4. Think outside the box. When you're considering those target employers, remember to remain open to all possibilities. Often, transitioning servicemembers have misconceptions about what career opportunities might really exist in the civilian sector. For example, when you hear CarMax, you might immediately start thinking about a car salesperson position. Yes, CarMax sells cars, but they're also a Fortune 500 in the retail business with plenty of leadership and management positions in their business model and within their corporate structure. When recruiters, talent acquisition professionals, or other contacts and connections approach you, keep an open mind. Share your passions and interests, and then explore how your knowledge, skills, and abilities might be a potential match to meet the particular needs within their company or organization.
5. Understand salary negotiation. Salary and compensation (salary plus benefits) tend to be very private, personal information for most people. Consequently, many folks don't know much about salary negotiation and feel very much in the dark when the time comes to engage in the negotiation process. But salary negotiation is just a matter of prior research and networking. Many companies' employee benefits can be found with a quick search online. Talking to contacts at a given company — current or past employees — can help to determine general salary ranges and other compensation benefits they offer.
[RELATED: Considering a Career Change? Here's How to Make It Work]
Capt. Jacob Drumheller, USA (Ret), a MOAA Life Member, says he wished he had a better understanding of all the options and ingredients for successful salary and employment negotiations.
"I was solely focused on annual salary and bonus," he explains. "Had I been more savvy, I would've asked for [or] inquired about the tangible and intangible quality of life-type benefits," such as remote work opportunities, percentage of travel requirements, company culture, and salary structure and bonuses. Other vital areas to consider and prioritize that might be equally important to you include start date, number of vacation days, commuting time or distance, and employee benefits. Select two or three items that are most important to you to introduce during the negotiation phase.
6. Network, network, network. There's a reason you constantly hear people talk about how important networking is to finding the right job. Networking is the way you most likely will hear about the position you end up accepting. When you hear the term networking, think "relationships." That's all networking really is — leveraging existing relationships, whether they're close and long-standing or brand-new. Both types are a great way to learn about jobs that are never posted on a job board.
[RELATED: Visit MOAA's Career Networking Group on LinkedIn]
7. Know thyself. It's important to recognize you're making a big leap when you transition from the military into the largely unfamiliar realm of the civilian private sector. You'll want to hit the ground running, but you'll also need to quickly establish a foundation that ensures your success.
"Be humble and actively listen to your new colleagues, who will play a key role in defining your early success," says Capt. Matthew Pregmon, USN (Ret). The reasons people fail in a new position usually have little to do with their ability to do the job. Adapting to the company culture and fostering key relationships can help accelerate your break-even point — the point at which you start actively contributing instead of having to be carried.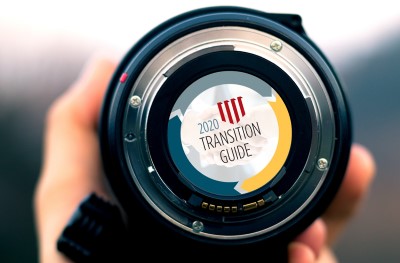 Return to MOAA's 2020 Transition Guide.