(These items originally appeared in the November 2019 issue of Military Officer, a magazine available to all MOAA Premium and Life members. Learn more about the magazine here; learn more about joining MOAA here.)
By Blair Drake, MOAA Contributing Editor
Whether you're shopping for a gym enthusiast or someone starting out, this gear will make working out more entertaining and enjoyable.
Mirror Home Trainer
Work out with certified instructors in the comfort of your own home with this interactive trainer. Mount the Mirror on a wall or in the stand, and then access live or on-demand workouts on your iPad or iPhone.
Cost: $1,495, plus $39 per month subscription. Use code SERVE3 for three months off subscription.
Where to buy: www.mirror.co
Check out featured sponsor content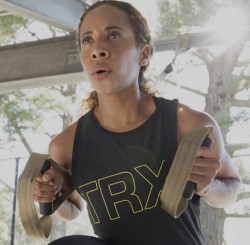 TRX Tactical Gym
Created by a Navy SEAL, this suspension training system allows you to work out anywhere. This system, described as the "most rugged" of the TRX trainers, includes the suspension straps, anchors, one-year free access to the TRX app, and the TRX Force app.
Cost: $249.95. Order via phone at (888) 878-5348 to get the military discount of $60 off.
Where to buy: Call the number above, or visit https://store.trxtraining.com.
Gym/Work Bag
Carry your gym and work gear together in the Aer Fit Pack 2 bag. It includes a ventilated shoe compartment, a padded pocket for your laptop, a compartment for clothes, and other internal and external pockets for accessories.
Cost: $135. MOAA members will receive a small discount by contacting Aer at support@aersf.com.
Where to buy: www.aersf.com
Stack 52 HIIT Interval Workout Game
This game, developed by an Army sergeant, makes working out more fun. You shuffle the cards to create a workout, and you can scan cards with your smartphone to watch videos of how to do the moves. Play with others or individually.
Cost: $29.97
Where to buy: www.strength.stack52.com