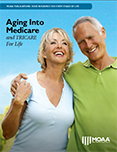 MOAA provides the following comprehensive information about your TRICARE options. Click here for more on MOAA's health care advocacy efforts, and here to learn more about products available under the MOAA Insurance Program.
MOAA members also can download the Aging into Medicare and TRICARE For Life guide, which a checklist to help you prepare for, transition into, and understand TRICARE For Life and Medicare with confidence and ease. For our PREMIUM and LIFE Members, benefits counseling with MOAA staff experts will assist in troubleshooting questions specific to your situation.
Seeking specific guidance? Follow these links:
TRICARE programs for beneficiaries under 65 (includes information on TRICARE Prime, TRICARE Select, and TRICARE Reserve Select and TRICARE Retired Reserve)
TRICARE programs for beneficiaries over 65 (includes information on Medicare Parts A and B, and TRICARE for Life
TRICARE dental programs (includes information on the Active Duty Dental Program and the TRICARE Dental Program)
MOAA also provides a primer on long-term care resources, including the Federal Long Term Care Insurance Program.